Dylan is a Senior Director of Engineering Enablement & Engagement at Salesforce and was recently interviewed on the Level Up Engineering Podcast hosted by Coding Sans. This is his story.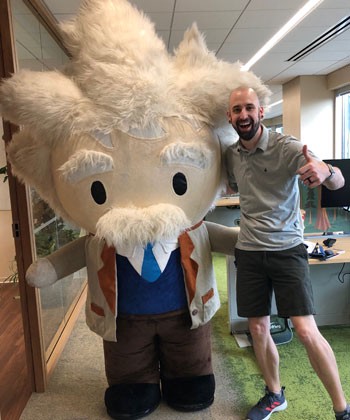 When not spending his days working at Salesforce, you'd probably find Dylan in the gym, out for a bike ride, or spending time being active with his two boys. While he'd likely prefer this lifestyle full-time, Dylan has also grown his engineering career at Salesforce for nine years and has learned many tips and tricks to manage health and wellbeing in the technology industry.
Dylan joined Salesforce early in 2013 as an individual contributor in a Buildmaster role, which was a centralized leadership role between engineering, quality assurance, release management, and executive leadership. After taking on progressively more senior roles, and expanding his responsibilities to leading teams, Dylan reached a point in 2019 when it was time to take a break from Salesforce to focus on himself and his family.
You see, not only has Dylan grown his career significantly during his time at Salesforce, he's been through a number of significant life events, including:
Being diagnosed with a chronic illness and learning to manage symptoms accordingly.
Purchasing his first home in one of the most competitive markets in the world (Vancouver, BC, Canada).
Getting married to his partner of nearly 15 years.
Being a father to two boys, less than two years apart from each other.
After the birth of Dylan's second child, he really doubled down on the fact that he needed to focus on his own health, wellbeing, and longevity for the future of his family. Dylan made a number of life changes, including quitting drinking alcohol, eating healthier and committing to at least 60 minutes of exercise daily. These changes improved his health and wellbeing; however, the constant demands of being a leader at Salesforce caught up to him in the first six months of the COVID-19 pandemic. That's when he took advantage of the sabbatical benefit Salesforce offers. Dylan also blogged extensively on his personal blog heading into the sabbatical, and what he achieved once he returned to work.
Out of his sabbatical and heading into a new role at Salesforce, with a focus on engineering enablement and engagement, Dylan has begun sharing his story more broadly with others with an goal to help others in the technology industry to focus on their own health and wellbeing.
---
In his interview on the Level Up Engineering Podcast, Dylan discusses his journey and shares some of his perspective as to how engineering leaders can foster a culture of wellbeing within their teams. Dylan advocates for the term work-life awareness, which goes beyond work-life balance by being deliberate and aware as to how your work and life are aligning, where boundaries need to be defined, and when they can be flexed. Finally, Dylan provides a number of tips and techniques to understand your team in a success from anywhere environment and how to be a champion for healthy working environments in teams.
To summarize, Dylan recommends the following as tips and ideas to promote wellbeing:
Define boundaries in your life. Allow those boundaries to be flexible as needed. Be aware when the boundaries are flexed too often as it's a signal they need to be revisited.
Find a counterbalance when times get tough. Practice self-care on days that your schedule is out of control. Offset the challenging days with an equal amount of time away from your work to recharge.
Be deliberate in knowing your team and your peers. Having conversations with them about your own personal health and wellbeing journey is a great way to build trust.
We appreciate that Dylan took time out of his busy schedule to let us know more about work-life awareness and engineering leadership on the Level Up Engineering Podcast. Follow him on Twitter or on his personal website. Interested in working with Dylan? Salesforce is hiring so be sure to check out on Salesforce's Technology careers page!