Sheryl Sandberg once said, "If you're offered a seat on a rocketship, don't ask what seat. Just get on!"
We couldn't agree more. Last month, approximately 200 members of the Salesforce Ohana took those words to heart at our first annual Get On the Rocketship Conference. The event was hosted by Salesforce Women in Technology at our San Francisco headquarters and streamed to Salesforce offices everywhere.
Keynote speaker Seema Gururaj, Global Leader of Tech Women at Intuit, kicked off the morning by sharing her career story, a non-traditional path that has included work at the Grace Hopper Celebration and social innovation programs. She told us that when people are aligned on a common goal, magic happens. Sounds like Salesforce!
Next, Cathy Polinsky, SVP of Engineering Search at Salesforce, shared her personal story and what we can learn from it in three rocketship points: be on the lookout for "rocketships" (amazing or unexpected opportunities), create your own rocketship by asking for what you want, and offer others a seat on your rocketship.
Guests were then treated to lightning talks from six Salesforce Technology & Product employees (Melody Bonnette, Archana Sethuraman, Kartik Gupta, Manju Vijayakumar, Mark Ustinov, & Carolyn Grabill) on non-traditional topics like learning to skateboard in 20 minutes, knowing when to leave your company or take on a new role, and maximizing productivity by replacing spreadsheets with our own Wave Analytics. A talk on innovation archetypes led by Tatyana Mamut, Senior Director of Product Design Operations; a game of Diversify Your Feed Bingo hosted by Developer Evangelist Mary Scotton; and a quiet time of guided meditation rounded out the day.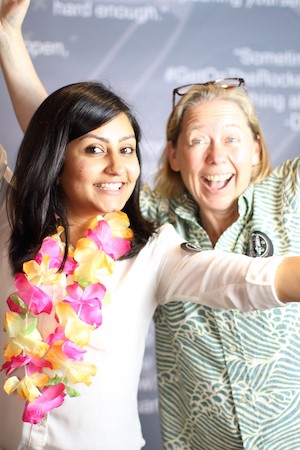 What did attendees take away from the conference? Here are the day's most memorable lessons:
Be willing to explore new tools and options to amp up your productivity.
Want to learn a new skill? Break it down into smaller tasks, focus on one piece at a time, and be willing to look "stupid" along the way.
Your hobbies and your work may have more in common than you think. What can you learn from one and apply to the other?
Risk presents opportunity!
Every mission, especially a mission that fails, prepares you for the next one. Know when a role or a company isn't a good fit anymore. Then "use your escape pod" to move on and keep growing and learning!
There is never a "right" time to #GrabASeat and claim your spot on a rocketship, so decide that now is a good enough time and go for it!
It's not always obvious in our day-to-day lives what those special "rocketship" moments are. Sometimes it's only in hindsight that we're able to see where we donned our space suits and grabbed that seat on an outbound ship. This conference inspired us to always keep an eye out for those moments, and empowered us to never hesitate to #GrabASeat!
Share your own career story on Twitter using the hashtag #GrabASeat to help inspire others, and don't forget to mention @SalesforceEng!
What risks brought you to where you are today? What advice can you share that might inspire someone else to get on their rocketship? Let us know in the comments!